Review:
"Either the finest record or the most overblown album in Yes' output. When it was released, critics called it one of the worst examples of progressive rock's overindulgent nature." BE Rolling Stone critic Gordon Fletcher called it "psychedelic doodling." WK
"The album's concept, a two-disc, four-piece work of symphonic length and scope (based on the Shastric scriptures, as found in a footnote within Paramahansa Yogananda's book Autobiography of a Yogi), was their most ambitious to date. The four songs of the album symbolise (in track order) the concepts of Truth, Knowledge, Culture, and Freedom, the subjects of that section of text. According to drummer Bill Bruford in his autobiography (p. 72), former King Crimson percussionist Jamie Muir introduced vocalist Jon Anderson to Paramahansa Yogananda's work during Bruford's wedding in March 1973, and therefore had an indirect impact on the album's concept." WK
"Jon Anderson's fascination with Eastern religions never manifested itself more clearly or broadly, but one needn't understand any of that to appreciate the many sublimely beautiful moments on this album, some of the most gorgeous passages ever recorded by the band." BE
"Wakeman has often expressed intense dislike of the album, stemming in part from the fact that vocalist Jon Anderson and guitarist Steve Howe constructed the bulk of the album entirely on their own (as the sleeve notes suggest), leaving the remaining three members with relatively little to contribute (which the sleeve notes dispute). The complaints about Anderson and Howe's studio behaviour were not unprecedented: drummer Bill Bruford had left the band for King Crimson a year earlier for similar reasons." WK "Wakeman, in frustration, spent much of the time playing darts with Black Sabbath members" WK who were "in the studio recording Sabbath Bloody Sabbath at the same time as Yes." WK
Bassist "Chris Squire mentions listening to tapes of a live performance some years later and thinking 'it does go on a bit', but then adding that he 'really enjoyed it'." WK Wakeman has acknowledged "that he enjoyed some of the musical content of The Ancient, and Wakeman has performed The Revealing Science of God and Ritual with the band often in the years since." WK Howe has "stated that some of his best guitar work was to be found on Tales from Topographic Oceans.
---
Review Source(s):
---
Related DMDB Link(s):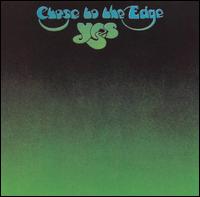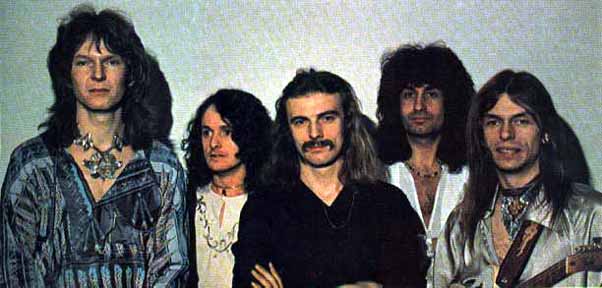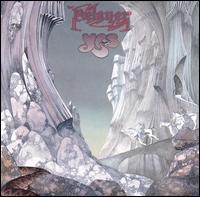 ---

Click on box above to check out the DMDB on Facebook.
---
Last updated June 23, 2011.