Review:
"The album that first gave shape to the established Yes sound, build around science-fiction concepts, folk melodies, and soaring organ, guitar, and vocal showpieces" (Eder). This was "not quite the classic lineup (even Rick Wakeman would not join until Fragile), but thanks to new recruit Steve Howe here for the first time is the mature Yes sound in all its sonic glory. On tracks like the barnstorming showpiece Starship Trooper Chris Squire's monstrous bass looms large in the mix, Bill Bruford's jazz drumming skates edgily around the beat, and layered on top are those remarkably long-limbed solos from Howe – one of the very few guitarists to fuse the best of jazz with rock (as well as creating a landmark in acoustic guitar literature with his Chet Atkins-inspired solo The Clap)" (Walker).

"Singer Jon Anderson's elliptical lyrics had yet to flower into the truly bizarre realms of Close to the Edge and Tales from Topographic Oceans, but he was already using words more for their sound value than sense ('Yesterday a morning came, a smile upon your face / Caesar's Palace, morning glory, silly human race')" (Walker).

The classic rock staple I've Seen All Good People was edited into the single Your Move and gave Yes their first charting single. The aforementioned 'Starship Trooper,' along with "Perpetual Change, and Yours Is No Disgrace, became much-loved parts of the band's concert repertory for many tours to come" (Eder).

"Put it all together and you've got an album with a much sharper edge than their later bloated extravaganzas" (Walker).
---
Review Source(s):
---
Related DMDB Link(s):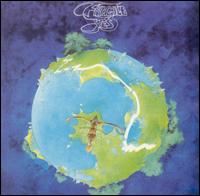 ---
Last updated April 28, 2008.