Review:
"Walt Disney Pictures had its fourth straight massive hit with an animated movie musical in the summer of 1994 with its tale of the coming of age of a young lion. The movie studio changed composers, replacing Alan Menken, who wrote The Little Mermaid, Beauty and the Beast, and Aladdin, with Hans Zimmer (instrumental score) and Elton John (songs); lyricist Tim Rice, who took over on Aladdin after the death of Howard Ashman, remained in place." WR
"Elton John doesn't seem like a natural choice to write for a Disney musical, but he rose to the task on The Lion King, transcending his usual penchant for the softest of soft rock." AZ He "took a leaf from the Paul Simon Graceland songbook and filled his music with references to South African mbaqanga." WR John's "collaboration with Tim Rice (former writing partner of Andrew Lloyd Webber) helps connect the soundtrack to the theatrical lineage of all Disney musicals – so much so that, like Beauty and the Beast, The Lion King was eventually adapted for Broadway." AZ
Can You Feel the Love Tonight
However, from a content standpoint, "there wasn't that much of it." WR "but that didn't keep this album from topping the charts as the movie harvested hundreds of millions of dollars all summer." WR "Undistinguished songs like Can You Feel the Love Tonight? are far outnumbered by stirring, stately tunes that lent the film so much of its sense of pageant and play." AZ
Circle of Life
However, "while it is hard to argue with the ecology lesson behind Circle of Life or the impossibly infectious rumba of Hakuna Matata," SL there's really only "about five songs here, three of which are repeated at the end in versions by John." WR
Hakuna Matata
Then this "already padded soundtrack was further padded with four excerpts from Zimmer's score." WR Of course, some would suggest that "the true heart of the original soundtrack…was the…inspiring and majestic score." SL
---
Review Source(s):
---
Related DMDB Link(s):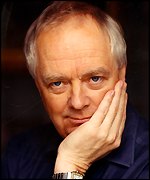 ---
Buy at Amazon:
---

Click on box above to check out the DMDB on Facebook.
---
Last updated July 15, 2012.