Review:
"Rodgers & Hammerstein's final musical, The Sound of Music, was also a definitive work for the team in that it combined many elements common to their other shows, particularly South Pacific and The King and I: it was set in a foreign locale, it starred a female lead in charge of children, it concerned an unlikely romance between an older man and a younger woman, it had a social/political element, and it featured a stirring anthem for a soprano (in this case, Climb Ev'ry Mountain). The 'based on a true story' plot concerned an aspiring nun who becomes a governess in pre-World War II Austria" WR-C for "a wealthy naval captain with seven children," WR-S "only to marry the children's father and flee with the family from the Nazis." WR-C "Mary Martin played Maria, the postulant, and brought to the part her usual warmth and humor, along with a sense of authority born of decades of Broadway stardom." WR-C
"She was supported by an excellent cast including Patricia Neway, the Mother Abbess who sang 'Climb Ev'ry Mountain'; folksinger Theodore Bikel in the male lead; and Kurt Kaszner and Marion Marlowe as collaborationists, plus, of course, the children, who joined in on soon-to-be standards such as Do-Re-Mi. The massive success of the 1965 film version…tends to overshadow the stage production, so it's worth noting that [the cast album] topped the Billboard chart for 16 weeks and remains superior to the movie soundtrack." WR-C
"When the film version… – the final collaboration between Richard Rodgers and Oscar Hammerstein II – opened in March 1965, it became the highest grossing movie in history up to that time, and went on to win the Academy Award for best picture. The accompanying soundtrack…hit number one and spend four and a half years on the charts. (As of 2000, RCA was claiming North American sales of 11 million copies, though the album had never been certified beyond the gold level)." WR-S
"It was a very different recording from the Broadway LP. The main difference, of course, was the substitution of Julie Andrews for Mary Martin in the starring role of Maria…Martin, at whose behest the show was written, was a 45-year-old Broadway veteran when she started to play Maria, a real person who had been 21 when the events depicted in the show began. Martin relied on her considerable charm to mask the age difference. But she had displayed little interest in film during her career, and could hardly have been cast in the movie version after the age of 50, in any case. Andrews, though also a Broadway veteran, having starred in My Fair Lady (and, ironically, been passed over for the film version) among other shows, was only in her late twenties. Fresh from her Academy Award-winning appearance in the title role of Mary Poppins, she was well placed to play another children's nanny, and proved to be superb in the film as well as on the soundtrack album (though performances gauged for the screen sometimes came off as overly exuberant on record, particularly 'Do-Re-Mi')." WR-S
"That was one very big plus, but it was the only one. "Irwin Kostal's arrangements were much more ornate than those of Robert Russell Bennett's for the Broadway show, and much less impressive." WR-S
Most significantly, the soundtrack "deleted several key songs and added inferior ones written by Rodgers alone after Hammerstein's death." WR-C "On-stage, the show had been criticized for being too sentimental, but the film version robbed it of whatever grit it had possessed, eliminating such songs as How Can Love Survive? and No Way to Stop It that had been performed by supporting characters. Worst of all, the appealing duet An Ordinary Couple was gone, replaced by the slight Something Good…Rodgers supplied his own barely competent lyrics to this new song, and to I Have Confidence, which Andrews put across winningly despite its inferiority to the rest of the score." WR-S
"Popular as the film may have been, then, the soundtrack album was worth owning only because of Julie Andrews, and the original Broadway cast album remained definitive. [Since no edition of the album accurately credits the singers, it should be noted that Bill Lee's singing voice has been dubbed in for Christopher Plummer, who plays the romantic lead Captain von Trapp, and that it is Margery McKay who is singing, not the screen actress Peggy Wood, as Mother Abbess on 'Climb Ev'ry Mountain']" WR-S.
---
Review Source(s):
---
Related DMDB Link(s):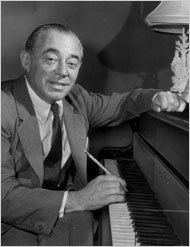 ---
Song Medley (with video montage)
---

Click on box above to check out the DMDB on Facebook.
---
Last updated November 12, 2011.