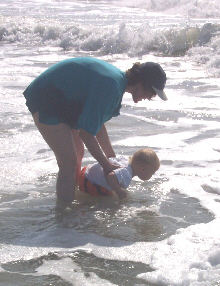 May 14 – 22, 2004: My first trip to the beach! Mom and Dad and I went to Topsail, North Carolina for a family vacation. Mom's family used to come here when she was growing up. The last time she'd been here was 11 years ago.

Her whole family was here (Grandma Shirley, Aunt Jennifer, Uncle Chris, and my cousins Nate, Liz, and Mike). They haven't all been together since before I was born

I loved the ocean. My swim classes paid off! I wasn't afraid of the water at all. Mom helped me blow bubbles.