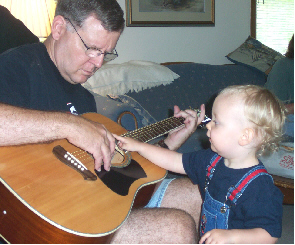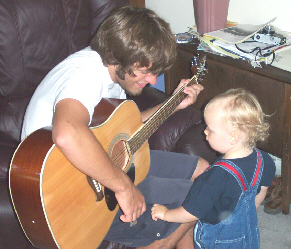 Depending on how you got to this page, you may or may not already know about my first trip to the beach. If you haven't seen those photos, you can click on the button below.

Anyway, we were in North Carolina at a beach house about a half hour away from Wilmington, where my dad's cousin, Carolyn Crouch, and her family live. Obviously we had to visit them! For any of you that don't know, Mom and Dad first started dating in 1998 when Dad was in Kansas City and Mom was in Chicago. They decided to first meet each other on neutral ground in St. Louis. At the time, the Crouch family lived there, so they were the first of Dad's family to get to meet Mom! The last time Mom and Dad saw them was Christmas 2001, when they announced that I was going to be born.
Early on in our visit, Carolyn's husband Floyd decided to get out a guitar. Little did he know just how interested I was in musical instruments – and that I'd been playing my own toy guitar at the beach all week. Soon I was getting lessons from him as well as Carolyn and Floyd's oldest sons Dustin and Matt. Matt even sang for us!