Review:
"Nobody knows heartache like Mary J. knows heartache." TL Throughout her career, Blige has delivered dramatic "songs steeped in heartbreak and disappointment." AK "Nobody understands better how unquenchable our thirst to hear what it sounds like can be." TL
Her "trademark ragged-edged soul…shines…throughout the 16 tracks." TL "'A love that tears you down ain't really love,' a laid-bare Blige reminds us on Ain't Really Love, after dedicating" TL "the nearly anthemic Good Woman Down" AK "to 'my troubled sisters'." TL On that song, Blige "sees a less matured version of herself in young women and uses her experiences to advise." AK
On Baggage "she apologies to her husband for bringing it into their relationship. Father in You sounds like a note-perfect facsimile of a classic soul ballad, rising and falling and twisting with a sensitive string arrangement, but the lyrics are pure Blige, acknowledging the ways in which her husband has made up for the absence of her father." AK Blige also "leaves absolutely no room for doubt that she just can't be without her baby (Be Without You). It's an exhilarating, love-affirming moment on a CD jammed full of them." TL
"She jacks the beat from The Game's 'Hate It or Love It' for MJB da MVP, where she reflects on her career, thanks her supporters, and reasserts her rightful position as the soul hip-hop queen. It's one of several tracks to beam with a kind of contentment and confidence that Blige has never before possessed. Take Can't Hide from Love, where she's such a force that Jay-Z dishes out a quick introduction and knows to stay out of the way for the remainder of the track, or the glorious I Found My Everything, her '(You Make Me Feel Like) A Natural Woman.'" AK
"Beat for beat, the album features the best round of productions Blige has been handed since the mid-'90s." AK "Blige and producers Dr. Dre, Jimmy Jam, Terry Lewis, and Will.i.am tasked themselves with stirring a river of hurt into some of the highest-caliber hip-hop/soul to hit the airwaves since she burned up the Waiting to Exhale soundtrack with 'Not Gon' Cry'." TL "Cameos alone could sell this disc: Brook, Jay-Z, Raphael Saadiq, and Bono step up." TL
---
Review Source(s):
---
Related DMDB Link(s):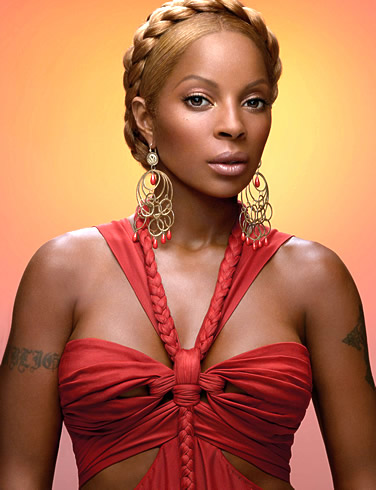 ---
MJB da MVP (video)
---
Be Without You (video)
---
Enough Cryin' (video)
---
One (video)
---
Take Me As I Am (video)
---

Click on box above to check out the DMDB on Facebook.
---
Last updated November 6, 2011.