Review:
"Nobody would have predicted that Destiny's Child would rule over the contemporary R&B scene in the beginning of the new millennium – not after 'Bills, Bills, Bills' hit the top of the charts, not even after 'Say My Name' became an anthem in 2000. But nobody challenged their position, so they reigned supreme in the early 2000s, eventually inheriting the title of the great girl group of their era. Since they had a couple of pretty good singles, namely the aforementioned pair, most conceded them that position, particularly since they seemed more talented than their peers" (Erlewine).

Survivor was "their first album as full-fledged superstars – also their first album since most of the group disappeared due to managerial conflicts. [It] is as contrived and calculated as a Mariah Carey record, only without the joy. This is a determined, bullheaded record, intent on proving Destiny's Child has artistic merit largely because the group survived internal strife. So, whatever pop kitsch references the title may have – and it's hard not to see it as an attempt to tap into the American public's insatiable love for CBS' brilliant reality TV show of the same name – the title is certainly heartfelt, as the members of Destiny's Child want to illustrate that they are indeed survivors" (Erlewine).

"This doggedness may fit on occasion, as on Independent Women, Pt. 1, the theme to Charlie's Angels, but it usually takes precedence over the music – such as on the title track, a flat-out terrible song and the worst the group has ever recorded. Survivor is painfully labored, stuttering over a halting melody that Beyoncé Knowles breathlessly pushes to absolutely nowhere, working it so hard that it's difficult to listen" (Erlewine).

"Unfortunately, that pattern repeats itself way too often on Survivor, as the group undercuts its seductive mainstream R&B with repellent pandering and naked ambition. This isn't even the case where you can rely on the label and its cohorts to find the best tunes for the radio, since the moments where Destiny's Child sound the best are when the group is not vying for airplay. When the group swings for the bleachers, Beyoncé oversells the song, rivaling Christina Aguilera in the diva sweepstakes" (Erlewine).

"There are moments where the group makes it work, but this is a truly uneven record, bouncing between appealing mid-tempo soul numbers and hard-sell feminist anthems, where the ambition of Beyoncé and her cohorts is too naked. You can hear them work on Nasty Girl, as they appropriate the theme from Salt-N-Pepa's 'Push It,' then inexplicably borrowing 'Tarzan Boy' for the chorus. You can hear them trying to take Andy Gibb's Emotion slow, attempting to give it emotional resonance, yet such heartfelt overtures are toppled by the arrogant Gospel Medley, where their secular pyrotechnics sound mannered, not inspired" (Erlewine).

"Each of these are intended to give Destiny's Child a different level of depth – a pan-cultural, knowing appropriation of pop's past, balanced by a chart-savvy cover of a pop classic, plus a showy display of prowess. Each of these steps are calculated, as is the album itself. It's a record that tries to be a bold statement of purpose, but winds up feeling forced and artificial" (Erlewine).
---
Review Source(s):
---
Related DMDB Link(s):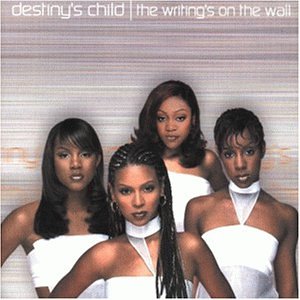 ---
Last updated November 19, 2008.