Review:
"The second album from Nick Drake came in 1970, and while not quite as melancholy as his debut, Five Leaves Left, there are certain brooding qualities that continued to propagate the Nick Drake mystique." LF "Bryter Layter featured another set of exquisitely arranged and performed tunes, with producer Joe Boyd and orchestrator Robert Kirby reprising their roles from the earlier release." NR
"With even more of the Fairport Convention crew helping him out – including bassist Dave Pegg and drummer Dave Mattacks along with, again, a bit of help from Richard Thompson – as well as John Cale and a variety of others, Drake tackled another excellent selection of songs." NR
"Starting with the elegant instrumental Introduction, as lovely a mood-setting piece as one would want, Bryter Layter indulges in a more playful sound at many points, showing that Drake was far from being a constant king of depression" (Raggett).
"While his performances remain generally low-key and his voice quietly passionate, the arrangements and surrounding musicians add a considerable amount of pep, as on the jazzy groove of the lengthy Poor Boy. The argument could be made that this contravenes the spirit of Drake's work, but it feels more like a calmer equivalent to the genre-sliding experiments of Van Morrison at around the same time." NR
"Numbers that retain a softer approach, like At the Chime of a City Clock, still possess a gentle drive to them." NR "Horns, flute, and strings arrangements lift such songs as…[that] and ,b>Hazy Jane I and II out of the realm of sad, folk-guitar music into something jazzier and lighter." LF "The beautiful piano and simple guitar of One of These Things First laments what could have been without sounding like a song of despair." LF The "two tracks featuring John Cale on various instruments (such as viola and harpsichord) have…[a] dark fragility." LF "Cale's additions unsurprisingly favor the classically trained side of his personality, with particularly brilliant results on Northern Sky," NR "a dreamy, brooding plea for long-lasting love." LF Meanwhile, "the lovely Fly is a fragile apparition." LF
"As his performances on keyboards and celeste help set the atmosphere, Drake reaches for a perfectly artful reflection on loss and loneliness and succeeds wonderfully." NR "Definitely not the same mood music as his starker work, but still a fine showcase for Nick Drake." LF
---
Review Source(s):
---
Fly (video)
---
Hazey Jane I (video)
---
Northern SkyI (video)
---
Related DMDB Link(s):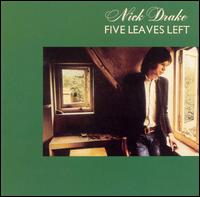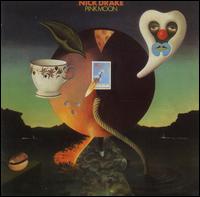 ---

Click on box above to check out the DMDB on Facebook.
---
Last updated June 19, 2011.