Review:
"American Idiot was a rarity of the 21st century: a bona fide four-quadrant hit, earning critical and commercial respect, roping in new fans young and old alike. It was so big it turned Green Day into something it had never been before – respected, serious rockers, something they were never considered during their first flight of success with Dookie. Back then, they were clearly (and proudly) slacker rebels with a natural gift for a pop hook, but American Idiot was a big album with big ideas, a political rock opera in an era devoid of both protest rock and wild ambition, so its success was a surprise." STE
"It also ratcheted up high expectations for its successor." STE As a result, "45 songs were written by vocalist and guitarist Billie Joe Armstrong by October 2007;" WK the entire "writing and recording process spanned three years and four recording studios and was finished in April 2009." WK
The result is 2009's 21st Century Breakdown, a commercial success that "debuted at the top of sales charts in twenty four countries." WK Thematically, it is hard to escape comparisons to American Idiot, since this is "another political rock opera that isn't an explicit sequel but could easily be mistaken for one, especially as" STE "its loose narrative follows a young couple named Christian and Gloria through the challenges present in the U.S. following the presidency of George W. Bush." WK "The movement and adjustment of the characters into the chaotic 21st Century is a prominent theme." WK "The album is divided into three acts: 'Heroes and Cons,' 'Charlatans and Saints,' and 'Horseshoes and Handgrenades' and is set in Detroit, Michigan." WK
"Heady stuff, but like the best rock operas, the concept doesn't get in the way of the music, which is a bit of an accomplishment because 21st Century Breakdown leaves behind the punchy '60s Who fascination for Queen and '70s Who, giving this more than its share of pomp and circumstance." STE
In regards to where this fits genre-wise, Green Day's Tre Cool "noted that Armstrong had 'gone archival' in writing 21st Century Breakdown by gleaning inspiration from 'the architects of rock & roll.'" WK "Rob Sheffield of Rolling Stone…claimed that the band 'combine punk thrash with their newfound love of classic-rock grandiosity.'" WK Daily Music Guide's Tom Rowse says this album "pulled Green Day up from being just a punk band to a true anthemic stadium band." WK "Armstrong himself has stated, 'Ground zero for me is still punk rock…It's just my DNA.'" WK
"Then again, puffed-up protest is kind of the point of 21st Century Breakdown: it's meant to be taken seriously." STE "Armstrong has described the album as a 'snapshot of the era in which we live as we question and try to make sense of the selfish manipulation going on around us, whether it be the government, religion, media or frankly any form of authority.'" WK
"It's not entirely surprising that Green Day fall into many of the same pompous tarpits as their heroes, ratcheting up the stately pianos, vocal harmonies, repeated musical motifs, doubled and tripled guitars, and synthesized effects that substitute for strings, then adding some orchestras for good measure. It would all sound cluttered, even turgid, if it weren't for Green Day's unerring knack for writing muscular pop and natural inclination to run clean and lean, letting only one song run over five minutes and never letting the arrangements overshadow the song." STE
And speaking of the songs, "many of the record's themes and lyrics are drawn from Armstrong's personal life and he sings in the first-person narrative style about abandonment and vengeance in Before the Lobotomy, Christian's Inferno, and Peacemaker." WK "East Jesus Nowhere rebukes fundamentalist religion and was written after Armstrong attended a church service where a friend's baby was baptized." WK Green Day's Mike Dirnt "has expressed his belief that Last of the American Girls was written about Armstrong's wife Adrienne, who 'has very strong beliefs and stands up for the things she believes in.'" WK
"The title track's opening lyric 'Born into Nixon, I was raised in hell' references Armstrong's birth year of 1972, while 'We are the class of '13' references the fact that his eldest son, Joseph, will graduate from high school in 2013." WK Spin called it "Green Day's most epic song yet." WK
"The singles, Know Your Enemy and 21 Guns exemplify the themes of alienation and politically-motivated anger present in the record." WK
"Although Green Day's other natural gift, that for impish irreverent humor, is missed – they left it all behind on their 2008 garage rock side project Foxboro Hot Tubs – the band manages to have 21st Century Breakdown work on a grand scale without losing either their punk or pop roots, which makes the album not only a sequel to American Idiot, but its equal." STE "Rolling Stone noted that the album is "the most personal, emotionally convulsive record Armstrong has ever written.'" WK
---
Review Source(s):
---
Related DMDB Link(s):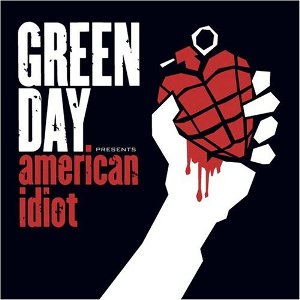 ---

Click on box above to check out the DMDB on Facebook.
---
Last updated March 28, 2011.