Review:
At the time of its release, Oasis' first outing was the UK's "fastest selling debut album of all time," WK selling "100,000 copies in its first four days." WK While none of the album's five charted songs were monster hits, they cemented the band's place as one of the acts to jump start Britpop with a sound that "is louder and more guitar-oriented than any British band since the Sex Pistols." STE
The band started in 1991. "The band is blessed with the excellent songwriting of Noel Gallagher" STE who "writes perfect pop songs, offering a platform for his brother Liam's brash, snarling vocals. Not only does the band have melodies, but they have the capability to work a groove with more dexterity than most post-punk groups." STE
Their contentious relationship made the Gallagher boys mainstays in the British tabloids for years. Their fighting was often compared to the Davies brothers from the Kinks; the music was hailed as practically the second coming of the Beatles. Indeed, the album "manages to encapsulate much of the best of British rock & roll — from the Beatles to the Stone Roses." STE
While the U.S. didn't embrace Oasis at the same level, the song Live Forever still proved a hit at album rock and modern rock stations and the album did go platinum. In the UK, it was the third single to see release, although the album still hadn't come out. Several failed recording attempts kept getting the album's release date moved, but in the end it contributed to the build-up that made the debut so successful.
Cigarettes & Alcohol was the fourth single released in the UK and became their most successful off Definitely Maybe, reaching #7. "Noel Gallagher said Slide Away was considered as a fifth single, but he ultimately refused, arguing, 'You can't have five [singles] off a debut album.'" WK
Regardless of Noel's position, part of "what makes Definitely Maybe so intoxicating is that it already resembles a greatest-hits album. From the swirling rush of Rock 'N' Roll Star, through the sinewy Shakermaker, to the heartbreaking 'Live Forever', each song sounds like an instant classic." STE
---
Review Source(s):
---
Related DMDB Link(s):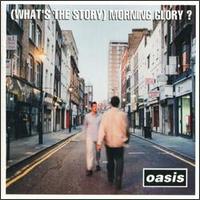 ---
Supersonic (video)
---
Shakermaker (video)
---
Live Forever (video – UK version)
---
Cigarettes & Alcohol (video)
---
Rock 'N' Roll Star (video)
---

Click on box above to check out the DMDB on Facebook.
---
Last updated May 31, 2011.