Review:
"September of My Years is one of Frank Sinatra's triumphs of the '60s, an album that consolidated his strengths while moving him into new territory, primarily in terms of tone" (Erlewine). It also garnered him his second Grammy for Album of the Year, the first being 1959's Come Dance with Me. He also won a third such award for A Man and His Music, a compilation of rerecordings of his hits released only months after this album.

However, it is September of My Years that "captures how Sinatra was at the time of his 50th birthday. Gordon Jenkins' rich, stately, and melancholy arrangements give the album an appropriate reflective atmosphere. Most of the songs are new or relatively recent numbers; every cut fits into a loose theme of aging, reflection, and regret" (Erlewine).

"Sinatra, however, doesn't seem stuck in his ways – though the songs are rooted in traditional pop, they touch on folk and contemporary pop. As such, the album offered a perfect summary, as well as suggesting future routes for the singer" (Erlewine).
---
Review Source(s):
---
Related DMDB Links: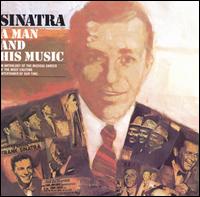 ---
Last updated April 13, 2008.