Review:
"Van Halen has always been the proper escape for adolescent males. They trademarked a sound that essentially offered the greatest party anyone could find. They were many a teen's Friday night fiesta, even if said teen never left the house…You could soak up Eddie Van Halen's convertible cruising riffage or [David Lee] Roth's over-the-top hysteria for all things fun 'n' games." CS
When Roth parted ways with the band after 1984, named after the year of its release, teen boys everywhere wept. However, VH soldiered on with Sammy Hagar as the new front man. The second incarnation of VH maintained the band's multi-platinum album status for another decade with four #1 studio albums.
After that also imploded, Van Halen did one more ill-chosen outing with Gary Cherone of Extreme taking the mike. That effort, the oddly named Van Halen III, was widely panned and proved their least successful commercial endeavor. That was the last we heard of the band from the studio.
Hagar returned for a "2004 hits album and an accompanying tour, a project that collapsed in acrimony so noxious that founding bassist Michael Anthony left with the Red Rocker. Eddie brought in his son Wolfgang as Anthony's replacement and began a prolonged courtship of David Lee Roth that first led to a tour [in 2007] and this to this, A Different Kind of Truth." AMG
Comeback projects rarely prove to be necessities, and Truth is certainly "designed to revive the spirit of the first five or six Van Halen records" AMG and erase III as the band's final testament. The new album accomplishes the task; AntiQuiet called it "a true return of the '80s cock-rock overlords." WK It "offers the same youthful escape that sold the band to millions worldwide over 30 years ago. Roth hardly sounds geriatric, Eddie's solos repel, quake, and tremble, Alex's thundering percussion remains intact, and…Wolfgang, fits right in. Even without Michael Anthony, the harmonies warm up each track in trademark fashion." CS SleazeRoxx said, "regardless of how much bad blood has been spilled over the years, of how insane Roth and the Van Halen brothers can act, one thing is certain – when they get together magic happens." WK
As evidence of the pent-up demand for new VH with Roth as the frontman, lead single Tattoo was the #1 selling rock song in the U.S. Canada, Finland, and the Netherlands a day after it was released to iTunes. In its first week of release, the video got two million hits on YouTube. WK "With David Lee Roth's staccato vocal and lyrics, that plodding bassline, the construction" VS and "a recognizable VH strut" MR – it is "odd indeed at first listen" VS "yet it's…unexpectedly addictive." VS Still, "Eddie's uninspired, sluggish guitar lines and Roth's slightly awkward lyrics" CS make it "the weakest four minutes and 43 seconds on the disc." MR
"Obsessive fans instantly noted the similarity between [that song] and 'Down in Flames,' a 1977 song played live, but never released on an album." HF As Roth told the Los Angeles Times, the band deliberately made an attempt to link to its past "by taking the most promising chunks of coal from four decades ago and polishing them into diamonds." HF
The VH faithful worried about the band dipping into old material. Hagar accused the band of just recording old songs because they couldn't write new stuff. MR However, it "turns out to be a savvy move, as they not only saved promising songs, but re-oriented the band, pushing them toward their essence" AMG as they use "their history to revive their present." AMG The band largely succeeds at keeping the songs from sounding like retreads, HF coming across as "age-proof, confident monsters." MR
"She's the Woman dates back to a 1976 demo that signed the band to Warner Bros., and it sports the album's catchiest chorus, recalling the sunny decadence of 'Beautiful Girls'." CS The album has "smartass guitar squeals, hyperactive bass, walloping drums, and Dave chortling lines like 'I wanna be your knight in a shining pickup truck.' It's classic attitude that burns a hole in everything the band has done since 1984." MR
"The slash-lurch of You and Your Blues confirms that the VH still has hooks." MR Eddie's "chopping down trees with a staccato riff that delivers real kicks to the chest." MR "Dave matches him move for move, tossing out pissed-off parting shots to a once-cool woman whose 19th nervous breakdowns…have become a major drag." MR
China Town is a "video game-like opener that bears repeated listens" MR with a "galloping bass-and-drum pattern" MR alongside "a remarkable bit of guitar acrobatics." VS
Blood and Fire is the "real single…a rousing, hey-let's-pat-ourselves-on-the-backs-for-getting-here victory lap," MR especially "when Roth drops the deadpan lines, 'Told ya I was comin' back. Say you missed me.'" MR The song "has ties to the band's score for the 1984 film The Wild Life, yet decades later it swells with flavor, namely due to Roth's knack for cheese: 'Come back when you're younger/'cause I can feel the thunder/1-800-Guitar.' It's absolutely perverse – borderline idiotic even – but it's plain 'ol fun." CS
Bullethead kicks off with a less-than-stellar "sludgy into, but its Motörhead-fronted-by-Roth vibe offers plenty to love." CS The song dates back to 1977 and "feels a bit like the band is providing a West Coast metal-funk answer to Queen's Sheer Heart Attack." MR
The "rippingly weird" VS "Honeybabysweetiedoll or The Trouble with Never might have worked in 1999, maybe with Gary Cherone even, but now they're just dated and ugly." CS "Structurally, the [former] song is free-form – Roth dives, dodges and claws his way through it all with hysterical, light-on-his-feet agility." MR "Trouble" showcases Roth's "get-down-and-part-tay! sensibilities…neatly tucked inside Eddie's flanged, pelvis-aimed chords" MR but the frequent use of spoken interludes on songs throughout the album "reaches the level of parody." HF
One case where the "backpedaling doesn't work" CS is Outta Space, which began as "Let's Get Rockin'" in 1976 CS but also includes a "Hot for Teacher" nod. MR It "paces around like a muscle car with a flat tire – also, nobody wants to envision Diamond Dave setting up his Facebook page, either." CS
Stay Frosty is "an off-kilter, bleary-eyed robot of 'Ice Cream Man'" MR which "serves up "vintage Roth wiseness on Buddhism: 'He looked me in the eyes and said / don't make me say this twice / you wanna be a monk, you gotta cook a lotta rice'." VS The song "spins around from acoustic swagger and bolts into a souped-up electric boogie, one that easily could have come from ZZ Top." MR However, it also offers "some baroque touches to match its barroom blues." MR Ultimately the "track innately frames just what this reunion has accomplished." CS
"Then there's Big River, based on the oft-discussed 'Big Trouble' demo which has circulated amongst fans for years, and was actually originally intended for Diver Down and then 1984." CS At this point in the album, most bands "would be lobbing softballs, but Van Halen stills packs a punch and deliver reasons to keep listening." MR "This soulful rocker oozes of late '70s hijinks and the thudding basslines and stormy percussion work off Eddie's strongest guitar work on the album – not the other way around." CS
Things wrap up with Beats Workin', a "coulda-been-a-first-track album closer" MR which "closes out the album with clamorous focus." CS The song "culls its energy from past demo 'Put Out the Lights', another lost gem off that Warner Bros. tape." CS
In the end, "it's pretty clear that these dudes put in the hours." MR "Fans will revel in Eddie's killer licks;" CS indeed, he "delivers a full spectrum of Technicolor hammer-on whammy creativity." VS "If he's no longer in tip-top form, he's still close enough that there are mnay moments throughout the album to dazzle Eddie wanna-bes." HF
Also, "Alex Van Halen remains the meatiest drummer in hard rock." VS He "thumps the drums a plenty: just check out the crunchy opening of As Is to hear the brothers VH spreading some of that genetic magic that siblings seem to mysteriously share." HF
Still, "the true hero here is Roth." CS His "voice is not the soaring, singular rock wonder that it used to be, but he's still got plenty of horsepower under the hood." HF "It's quite clear that the lanky frontman has been waiting for years to really let loose, and A Different Kind of Truth offers him plenty of opportunities." CS
"The bad news is the songs are largely hookless" HF and sometimes "Eddie and Roth seem to be working on different songs and competing with each other instead of complementing." HF Still, the album's "unexpected signature…is its heaviness, its 13 songs of loud, unrelenting rock." AMG This "could have been a train wreck of epic proportions and it's far from it." HF It has just "enough flashes of past brilliance" HF and is "a frequently thrilling return." GN "Against the odds, the party metal kings are back and blazing." GN
---
Review Source(s):
---
Related DMDB Link(s):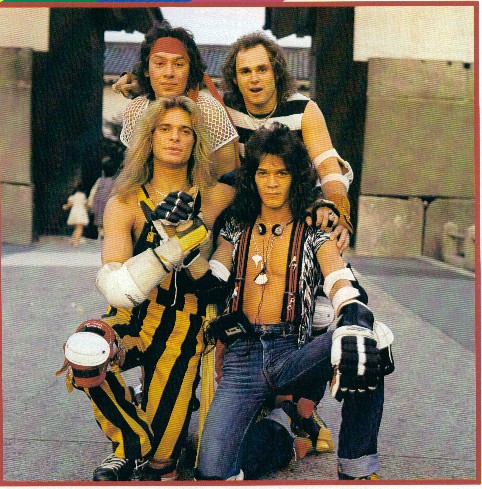 ---
Tattoo (video)
<!—Buy It! -->
---

Click on box above to check out the DMDB on Facebook.
---
Last updated February 6, 2012.