Review:
"Taking a break from his day job fronting rock heavyweight Pearl Jam, Eddie Vedder" SH records his first solo album, the soundtrack for Into the Wild. The movie, "based on Jon Krakauer's novel," TJ tells "the story of American wanderer Christopher McCandless. After graduating as a top student from Emory University, …McCandless decided to give up all of his savings and money and hitchhike to Alaska to live in the wilderness…Nearly five months later, he died of starvation." WK
"Director Sean Penn hand-picked Vedder to provide the music for the film. Previously, Vedder had contributed two songs to the soundtrack for the 1995 film, Dead Man Walking, and a cover of The Beatles' 'You've Got to Hide Your Love Away' to the soundtrack for the 2001 film, I Am Sam, both of which starred Penn." WK
"Vedder worked with producer Adam Kasper, who had previously worked on Pearl Jam's 2002 album, Riot Act, and 2006 album, Pearl Jam" WK but "there are no enormous emotive vocal explosions like there are on Pearl Jam records save for one restrained attempt near the end of the album." TJ Instead, Vedder crafts a collection of "folksy, rootsy tunes where rock & roll makes fleeting appearances." TJ "It's a true solo project in that he played virtually everything on the set." TJ
"As the cycle begins on Setting Forth," TJ "Vedder contemplates the traveler 'setting forth in the universe'" SH and suggest that "the notion of walking away is one of 'for good.'" TJ "The remaining songs the realizations and disillusionments" SH that come from dealing "with existential questions of losing everything in order simply to lose it and find something undetermined instead, rather than in terms of absolute 'freedom.'" TJ
"Vedder does a fine job of letting the listener know the cost" TJ when "a wish comes true in banjo-plucked No Ceiling to 'up and disappear,' while affluence is questioned on the hard-rocking Far Behind, with Vedder singing, 'Empty pockets will/ Allow a greater sense of wealth.'" SH
"On Long Nights, one gets the picture that the singer is whistling past the graveyard: 'Have no fear/ For when I'm alone/ I'll be better off/ Than I was before/ I've got this life/ I'll be around to grow/ Who I was before/ I cannot recall/ Long nights allow/ Me to feel I'm falling/ I am falling.'" TJ
Vedder "had help in only two places" TJ – the two cover songs which sat alongside his nine originals. Hard Sun, which was "originally written [and recorded] by Gordon Peterson who performed under the name of Indio," WK features "eerie backing vocals by Sleater-Kinney's Corin Tucker." SH Vedder also gets "a little extra acoustic guitar assistance and backing vocals from Jerry Hannan on Society, a tune Hannan authored," TJ that "puts wealth on the hot seat…questioning, 'If less is more/ How you keepin' score?'" SH
The "all too brief organ and voice tune called The Wolf…is where the well of Vedder's power as a singer gets touched but never dug." TJ
"'Hard Sun' and Guaranteed had accompanying music videos." WK The latter "wraps the journey in one line: 'Leave it to me as I find a way to be/ Consider me a satellite forever orbiting.'" SH The song "won a 2008 Golden Globe Award…[and a Grammy] nomination for Best Song Written for a Motion Picture, Television or Other Visual Media." WK Meanwhile, "Rise received a [Grammy] nomination for Best Rock Vocal Performance, Solo. Vedder was nominated for a Golden Globe for his contributions to the film's original score in 2008." WK
As a whole, these songs "all seem to be of a piece, but musically there isn't enough imagination to distinguish them, to set the tension of dynamic in motion." TJ Most of the songs make for "an extended meditation on this existential notion of freedom, and the words begin to repeat…There is a poet at work here, but in some ways, outside the context of the images, the notion of a man freezing and starving to death even as he embraces beauty is a tough sell with a solid wall of calm enveloping the listener." TJ
---
Review Source(s):
---
Hard Sun
---
Guaranteed
---
Related DMDB Link(s):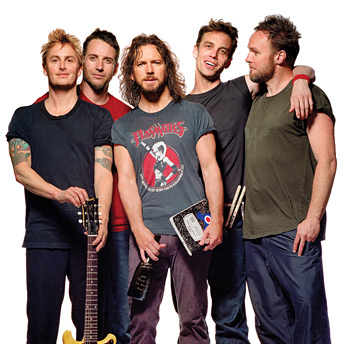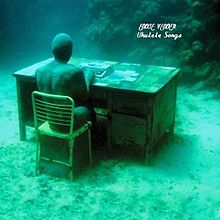 ---

Click on box above to check out the DMDB on Facebook.
---
Last updated June 3, 2011.