Review:
"The Black Eyed Peas make effective pop/crossover music, but with all the limitations of the form – vapid lyrics, clumsy delivery, vocals smoothed over by Auto-Tune, and songwriting that constantly strains for (and reaches) the lowest common denominator. Worse yet, they aren't content to be disposable pop stars; they also want to write anthemic, vital songs that speak for a new generation." JB

"And so comes The E.N.D. (Energy Never Dies). For every hyper-sexualized, by-the-numbers track like the hit single Boom Boom Pow, there are message songs like Now Generation, which begins, in cheerleader fashion, with the lines: 'We are the now generation! We are the generation now!/ This is the now generation! This is the generation now!'" JB

"Led by will.i.am's production, which is continually the best thing about the album, the Black Eyed Peas move even farther away from hip-hop into the type of blandly inspirational dance-pop that has become ripe for advertising and marketing opportunities, including I Gotta Feeling ('I gotta feeling that tonight's gonna be a good night') and Party All Night ('If we could party all night and sleep all day, and throw all of our problems away, my life would be ea-say')." JB

"There's also a call for unity titled One Tribe, which gradually descends into confusion – and nearly self-parody – with a line about the dangers of making enemies, rapped this way: 'If I had an enemy, then my enemy's gonna try to come kill me 'cuz I'm his enemy – one tribe y'all.'" JB

"Between tracks, there are also occasional cameos from a narrator, who sounds strangely like Star Trek's Worf, intoning nuggets like these: 'There is no longer a physical record store, but we will continue to let the beat rock!' and 'The most powerful force on the planet is the energy of the youth/ But when this powerful youth becomes activated and stimulated and collectively decides not to buy things, what will happen to the economy?' Granted, there's nothing here as embarrassing as 'My Humps,' and the production is a shade better than previous material from the group or Fergie solo (although still not as good as will.i.am solo ventures), but The E.N.D. (Energy Never Dies) is a mess of pop/dance/rap crossover. It certainly won't change the minds of everyone who thinks that the group's pandering approach and clumsy execution make it the worst thing about pop music in the 2000s." JB

Considering this album's lack of critical acclaim, it probably isn't too surprising that it was a massive commercial success. The album moved more than 10 million copies worldwide, pretty much unheard of anymore in the digital age. The group owes those sales to two massive hits – "Boom Boom Pow" topped the U.S. charts for a whopping 12 weeks and was dethroned by "I Gotta Feeling," which hung on for an additional 14 weeks, giving the Peas a lock on the top of the Billboard Hot 100 for half of the year. Critics can say what they will, but the buyers and listeners told a different story.
---
Review Source(s):
---
Related DMDB Link(s):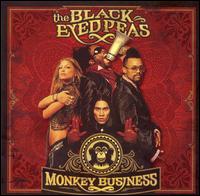 ---
Boom Boom Pow
---
Imma Be
---
I Gotta Feeling
---
Meet Me Halfway
---
Rock That Body
---

Click on box above to check out the DMDB on Facebook.
---
Last updated January 26, 2011.