Review:
"If, as many contend, Creedence Clearwater Revival was the foremost singles rock band of its time, Cosmo's Factory is the ultimate end-of-the-'60s singles album." SS The album name, by the way, comes from drummer Doug Clifford's nickname of "Cosmo" and the warehouse where the band rehearsed, which he called "the factory." WK
"Indeed, seven of the album's 11 tracks turn up on Chronicle, CCR's best hits collection. That said, Cosmo's is really a must-own in its entirety. No other album so adeptly laces together the various strands of the CCR sound." SS
"Still, the heart of the album lays in those six fantastic songs released on singles." STE "John Fogerty's ready-for-AM-radio knack surfaces in Lookin' Out My Back Door and Up Around the Bend." SS The former is "a charming, bright shuffle, filled with dancing animals and domestic bliss – he had never been as sweet and silly as he is here" STE while the latter is "a searing rocker, one of their best." STE
These are "balanced by the menacing murkiness of Run Through the Jungle" STE and the "poignant melody and melancholy undertow" STE of Who'll Stop the Rain.
"Throughout 1969 and into 1970, CCR toured incessantly and recorded nearly as much. Appropriately, Cosmo's Factory's first single was the working band's anthem Travelin' Band, a funny, piledriving rocker with a blaring horn section; the first indication their sonic palette was broadening." STE
As for the non-singles, there is "the claustrophobic, paranoid rocker Ramble Tamble. Unlike some extended instrumentals, this was dramatic and had a direction." STE "Their faithful, exuberant takes on the Sun classics Ooby Dooby and My Baby Left Me are joyous tributes." STE
"No white group of its time could cover black music with as much natural flair; check out the 11-minute cover of I Heard It Through the Grapevine for proof." SS "Even if it wanders, their take on the Marvin Gaye classic isn't unpleasant." STE

"On Long as I Can See the Light, the record's final song, he again finds solace in home, anchored by a soulful, laid-back groove. It hits a comforting, elegiac note, the perfect way to draw Cosmo's Factory; an album made during stress and chaos, filled with raging rockers, covers, and intense jams; to a close." STE

"The band broke up two albums after the release of this, their apex LP, but Cosmo's Factory cemented CCR's standing as a great American band." SS
---
Review Source(s):
---
Travelin' Band (live video)
---
Who'll Stop the Rain (John Fogerty, live video)
---
Up Around the Bend (photo montage)
---
Lookin' Out My Back Door (video)
---
Long As I Can See the Light (John Fogerty, live video)
---
I Heard It Through the Grapevine (video)
---
Related DMDB Link(s):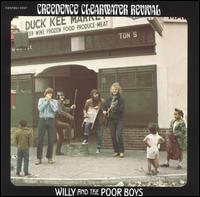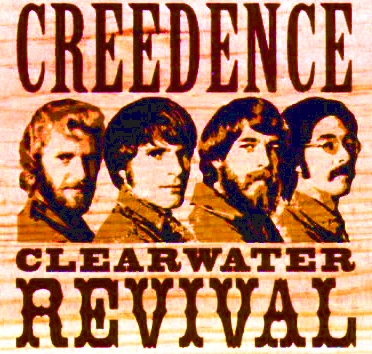 ---

Click on box above to check out the DMDB on Facebook.
---
Last updated July 18, 2011.