Review:
"The audacious debut from the snot heard round the world." ZS "Hip-hop had never heard anything like Em's brain-damaged rhymes…which earned Em respect, fortune, fame and a lawsuit from his mom." RS He was "more shocking than Marilyn Manson, more offensive than Andrew Dice Clay" ZS with detractors arguing that "his talent doesn't outweigh the misogynistic lyrics." ZS Indeed, he served up "lacerating insights with vigor and venom, blurring the line between reality and parody, all seemingly without effort." AMG
"The Slim Shady LP bristles with this tension, since it's never always clear when Marshall Mathers is joking and when he's dead serious. This was unsettling in 1999, when nobody knew his back-story, and years later, when his personal turmoil is public knowledge, it still can be unsettling, because his words and delivery are that powerful." AMG
"Of course, nowhere is this more true than on '97 Bonnie and Clyde, a notorious track where he imagines killing his wife and then disposing of the body with his baby daughter in tow. There have been more violent songs in rap, but few more disturbing, and it's not because of what it describes, it's how he describes it – how the perfectly modulated phrasing enhances the horror and black humor of his words." AMG
"The world has treated him badly, and he wants to respond in kind. But he isn't a straight-up gangsta…and Eminem…doesn't really want anyone to follow in his footsteps, which leads to some interesting contradictions on this album." AZ "In the first single, My Name Is, he's self-deprecating, rapping about his poor upbringing and his hairy palms. But on the very next song, Guilty Conscience, he plays the devil to Dr. Dre's angel – that is, until Eminem brings up an incident from Dre's devilish past, rapping, 'You gonna take advice from someone who slapped Dee Barnes?'" AZ Then "on My Fault he actually feels bad – though whether it's for the girl he overdosed or for himself is tough to figure out." AZ
The production "is crisp but consistently fun," AZ "masterminded by Dr. Dre but also helmed in large doses by Marky and Jeff Bass, along with Marshall himself." AMG It "mirrors his rhymes, with their spare, intricately layered arrangements enhancing his narratives, which are always at the forefront. As well they should be – there are few rappers as wildly gifted verbally as Eminem." AMG
"At a time when many rappers were stuck in the stultifying swamp of gangsta clichés, Eminem broke through the hardcore murk by abandoning the genre's familiar themes and flaunting a style with more verbal muscle and imagination than any of his contemporaries." AMG "With his nasal Midwestern tone, Mathers has a clean, clear flow" AZ to accompany his "supreme gifts" AMG of "an expansive vocabulary and vivid imagination, which he unleashes with wicked humor and unsparing anger in equal measure." AMG
With his outlook, it's tough to take Eminem too seriously, but he's made an album you don't have to take seriously to enjoy." AZ "Years later, as the shock has faded, it's those lyrical skills and the subtle mastery of the music that still resonate, and they're what make The Slim Shady LP one of the great debuts in both hip-hop and modern pop music." AMG
---
Review Source(s):
AMG All Music Guide review by Stephen Thomas Erlewine
AZ Amazon.com review by Randy Silver
RS Rolling Stone 500 Greatest Albums of All Time
ZS Zagat Survey Music Guide: 1,000 Top Albums of All Time. Coordinator: Pat Blashill. Music Editor: Holly George-Warren. Editors: Betsy Andrews and Randi Gollin. Zagat Survey, LLC: New York, NY. (2003). Page 96.
---
Related DMDB Link(s):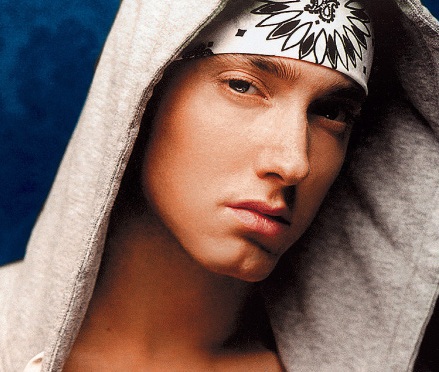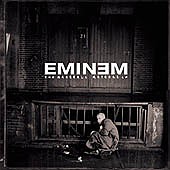 ---
Just Don't Give a Fuck (video)
---
My Name Is (video)
---
Guilty Conscience (video)
---
Buy It!
---

Click on box above to check out the DMDB on Facebook.
---
Last updated February 23, 2012.