Review:
With her 2000 debut Whoa, Nelly!, Nelly Furtado pulled off a couple top ten hits ("I'm Like a Bird", "Turn Off the Lights"), but followed it up with the 2003 Folklore, an album in which "she indulged herself without a care for the audience -- and the audience responded in kind, as the album barely cracked the Billboard Top 40, spawned no hits, and sold about a quarter of what her Grammy-winning debut did." STE
"Clearly a rethink of some sort was in order for her next album, and 2006's Loose" STE repackaged Furtado as "glammed up, sexed up, and ready for the dancefloor. Borrowing liberally from Gwen Stefani's ghetto fabulous makeover and a little bit from Justin Timberlake's sleek retro-'80s moves on Justified, Furtado now has a sound that's straight 2006." STE "Loose incorporates a number of different styles along its journey, but is – surprisingly – primarily divided between '80s-influenced electronica and latin-infused pop." DS
"Furtado is nothing if not smart, and she smartly picked Timbaland, one of the very best producers in modern music, as her main collaborator for Loose." STE The "legendary hip-hop knob-twirler" DS had worked with stars like Missy Elliott, Jay-Z, and Justin Timberlake. On Loose, he "helmed all but two of the 12 main tracks here…and he gives much of this music a bracing feel, dense with old-school synths, subtle sample collages, bone-crunching bass, cascading vocal hooks, and beats that sound so heavy it takes careful listening to realize how nimble they are." STE
"Nowhere is this more evident than on the killer opening triptych…that trumpet Furtado's makeover and make it seem pretty convincing, too." STE The "new wave-affected Afraid" DS makes for a "strong opener" DS with its "uptempo, infectious dance floor beats." DS Maneater sports a "circular, minor-key bass" STE and "also proves to be incredibly catchy, but the verses and keyboard sound too much like they were plucked from electroclash artist Peaches' tree, and originality is lost." DS
"The perfect summer pop song follows, the massive hit Promiscuous, which features clever interplay between Furtado and Timbaland on their sassy duet" DS which has a "chorus that sounds like vintage Prince." STE
"This is Timbaland at his best, and the only weak link is Furtado…she just doesn't sound sexy. She sounds as if she's striving to be sexy." STE "On all the heavy dance songs, of which there are a bunch, she's mixed into the background on Timbaland's production, functioning as another instrument, which helps the music work as just a stylish wall of sound. Furtado doesn't fight against Timbaland's mix…there's a reason why she chose Timbaland as a collaborator, and she lets him shine for the first half of the record, as they get the party rolling." STE
"On the second half of the record, the old Nelly starts to show through." STE "It's on this final stretch of the album that the Furtado and Timbaland pairing seems like a genuine collaboration, staying true to the Nelly of her first two albums, but given an adventurous production that helps open her songs up." STE "From that point, Loose oscillates between the Miami-affected sounds of R&B, Latino pop, and reggaeton" DS and an '80s vibe (Glow, Do It)." DS
"She gets to play the world traveler with No Hay Igual, where she deftly blends reggaeton and M.I.A., along with the smooth Latin pop ballad Te Busque." STE Wait for You "has Indian-influenced hooks and a melody reminiscent of 'I'm Like a Bird,' both strands are pulled together in a haunting fashion." STE
"Her words gradually come to the forefront, as on Say It Right – a dark meditative piece that would have fit on her previous records if it didn't have a Timbaland production." STE That song and "the sweetly ruminative In God's Hands" STE present "Furtado at her vocal best" DS and are also "two of the most lyrically compelling tracks on the disc." DS
"The music on the second half isn't nearly as immediate or addictive," STE but "no matter how club-friendly Loose is – even its quieter moments, like the closing All Good Things (Come to an End) (co-written in part by Coldplay's Chris Martin), feel like ideal soundtracks to chill-out moments." STE
---
Review Source(s):
---
Related DMDB Link(s):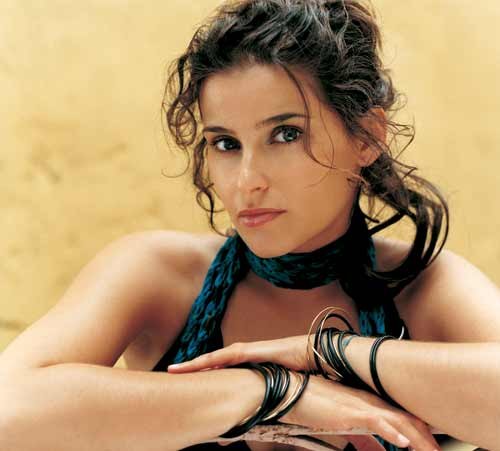 ---
Promiscuous (video)
---
Maneater (video)
---
Say It Right (video)
---
All Good Things Come to an End (video)
---
Do It (video)
---

Click on box above to check out the DMDB on Facebook.
---
Last updated November 6, 2011.