Review:
"When Buddy Holly & the Crickets broke through nationally in 1957, they were marketed by Decca Records as two different acts whose records were released on two different Decca subsidiaries – Brunswick for Crickets records, Coral for Holly records. But there was no real musical distinction between the two, except perhaps that the 'Crickets' sides had more prominent backup vocals." RB
As a result, two separate albums appeared on the scene a mere three months apart. From a singles standpoint, the album's roughly alternated single releases throughout 1957 and 1958. In the CD era, those albums have been logically paired together.
"The debut album by the Crickets and the only one featuring Buddy Holly released during his lifetime, The 'Chirping' Crickets ," RC was the first and is "one of the most significant album debuts in rock & roll history, ranking with Elvis Presley and Meet the Beatles." RC
The Chirping Crickets "contains the group's number one single That'll Be the Day and its Top Ten hit Oh, Boy! Other Crickets classics include Not Fade Away, Maybe Baby, and I'm Looking for Someone to Love. The rest of the 12 tracks are not up to the standard set by those five, but those five are among the best rock & roll songs of the 1950s or ever." RC
Closely on that album's heels was "the debut album credited to Buddy Holly." RB The Chirping Crickets gets the lion's share of the critical acclaim, but the self-titled Buddy Holly deserves equal attention. It featured his "Top Ten single Peggy Sue plus several songs that have turned out to be standards: I'm Gonna Love You Too, Listen to Me, Everyday, Words of Love, and Rave On. The rest of the 12 tracks weren't as distinctive, though Holly's takes on such rock & roll hits as Ready Teddy and You're So Square (Baby I Don't Care) provide an interesting contrast with the more familiar versions by Elvis Presley." RB
The Buddy Holly album is significant because, due to his horrible death in a plane crash on 2/3/59, it "was the final new album featuring Holly to be released during his lifetime." RB
---
Review Source(s):
---
Related DMDB Link(s):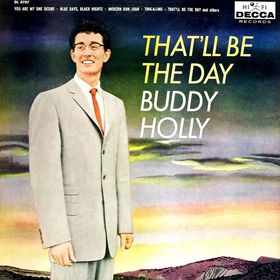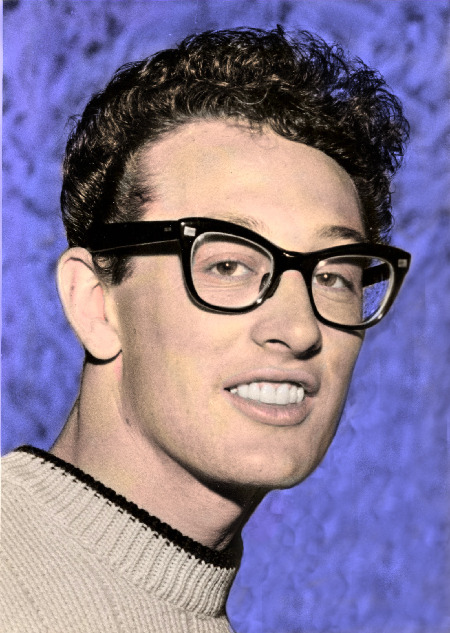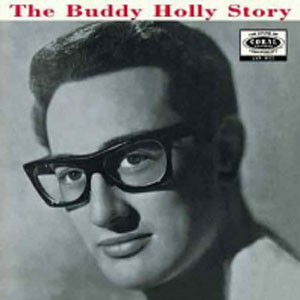 ---
That'll Be the Day (video)
---
Peggy Sue (video)
---
Everyday (video)
---
Oh Boy! (video)
---
Maybe Baby (video)
---
Rave On (video)
---

Click on box above to check out the DMDB on Facebook.
---
Last updated September 7, 2011.