Review:
"In the mid-seventies, during the wholesale slaughter of rock's 'dinosaurs,' Tull provided an easy target. Everything they stood for was passé – extended solos, complex time signatures, jazz-styled improvisations" PR served up by "hairy prog-rock philosophers…[who managed] to incorporate flute solos" RS500 into FM-radio hits with "riff-heavy songs." AMG However, in dismissing "dinosaur rock," many critics overlooked the quality of the music.
In the case of Jethro Tull, they hit their peak with Aqualung, "an accomplished, intelligent, skillfully structured and eloquent collection of tunes." PR The album was their "magnum opus and defining epic." JD "The record was extremely profound…one of the most cerebral albums ever to reach millions of rock listeners." AMG As one reviewer said of "captivating pied piper Ian Anderson" ZS and his "dour musings on faith and religion," AMG, "He wants to make us think!" CRS
"Anderson insists to this day that it is not a concept album," JD but each half seems devoted to one prevalent theme. "The first half is largely devoted to portraying the faces from the urban underground that most people never see: homeless men, prostitutes, assorted freaks and geeks. The flip side (these still being the days of vinyl albums) is a bitter, angry, and sustained attack on the hypocrisy of the Church of England, which gives such people false hope." JD Specifically, the second half offered commentary on "how organized religion had restricted man's relationship with God." AMG
"Released at a time when a lot of bands were embracing pop-Christianity (à la Jesus Christ Superstar), Aqualung was a bold statement for a rock group, a pro-God antichurch tract that probably got lots of teenagers wrestling with these ideas for the first time in their lives." AMG
"The title track (and arguably the vibe of the whole album) was inspired by Anderson's first wife, Jennie, a photographer who'd been shooting images of destitute men living on the streets of London." JD "The 'poor old sod' of the title cut is so-named because his labored breathing sounds like a scuba diver sucking from an oxygen tank ('You snatch your rattling last breaths, with deep-sea-diver sounds/ And the flowers bloom like madness in the spring')." JR "This one track encapsulates all of Jethro Tull's musical variety and complexity in one handy package, intertwining three distinct parts: the nasty, hard-rock intro and exit powered by that monstrous, indelible guitar riff; the quiet, sympathetic acoustic interlude marked by Anderson's distant, treated vocals, and the majestic, pseudo-orchestral build-up that links the other sections." JD
"There's also considerable humor in Anderson's portraits. The prostitute Cross-Eyed Mary dines on 'expense-accounted gruel'; the clueless tourist in Mother Goose asks if it's ''really true there are elephants and lions too in Piccadilly Circus,' and all the while the army's up the road offering 'salvation a la mode and a cup of tea.'" JD
"The laughs are fewer and further between on the second side of the album as Anderson sets his sights on organized religion. But at heart, songs such as My God and Wind Up are examples of classic rock 'n' roll rebellion as Anderson rejects the conformist thinking that he was force-fed in public school. 'So to my old headmaster (and to anyone who cares)/ Before I'm through, I'd like to say my prayers,' Anderson sings. 'I don't believe you: You got the whole damn thing all wrong/ He's not the kind you have to wind up on Sundays.'" JD
"As with any great rock album, the lyrics are only a small part of the story. Aqualung succeeds because of the well-seasoned stew of musical influences: the frantic flute solos," JD ("Who thought a flute could rock this hard?") ZS "Palmer's regal orchestrations and baroque choir parts, keyboardist John Evan's imaginative Mellotron work, Anderson's rich baritone vocals, Barre's mellifluous guitar lines, and Clive Bunker's deft and dexterous drumming, which is alternately intricate and fragile in the progressive tradition and minimal and propulsive a la the best hard rock." JD
"Like Led Zeppelin, …Jethro Tull had mastered the art of dramatic contrasts and swelling dynamics, shifting with seeming effortlessness from thunderous grandeur to quiet, folky introspection. The madrigal-like Wond'ring Aloud' and Cheap Day Return are as plainly pretty as anything Sandy Denny ever recorded with Fairport Convention, while the rollicking, undeniable classic-rock-radio staple Locomotive Breath, the vituperative Hymn 43, and the viciously grooving Cross-Eyed Mary are as close to heavy metal as Tull ever got (the band's infamous 1988 Grammy for Crest of a Knave to the contrary)." JD
---
Review Source(s):
AMG All Music Guide review by Bruce Eder
JD Jim DeRogatis, The Great Albums (11/18/01)
CRS Tim Morse (1998). Classic Rock Stories: The Stories Behind the Greatest Rock Songs of All Time. New York, NY: St. Martin's Griffin.
PR Paul Roland (2001). CD Guide to Pop & Rock. B.T. Batsford LTD: London. Page 141.
RS500 Rolling Stone 500 Greatest Albums of All Time
ZS Zagat Survey (2003). Music Guide: 1,000 Top Albums of All Time. Coordinator: Pat Blashill. Music Editor: Holly George-Warren. Editors: Betsy Andrews and Randi Gollin. Zagat Survey, LLC: New York, NY.
---
Related DMDB Link(s):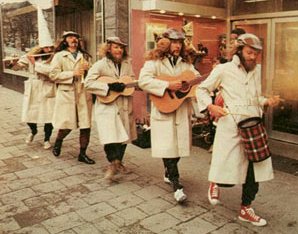 ---
Aqualung (live)
---
Locomotive Breath (live)
---
Cross-Eyed Mary (live)
---
Hymn 43
---
Buy It!
---

Click on box above to check out the DMDB on Facebook.
---
Last updated March 19, 2012.