Review:
"One of Rush's finest moments, second only to Moving Pictures." GW "Since Neil Peart joined the band in time for 1975's Fly by Night, Rush had been experimenting and growing musically with each successive release. By 1980's Permanent Waves, the modern sounds of new wave (the Police, Peter Gabriel, etc.) began to creep into Rush's sound, but the trio still kept their hard rock roots intact." GP
"The new approach paid off – two of their most popular songs, the 'make a difference' anthem Freewill, and a tribute to the Toronto radio station CFNY, The Spirit of Radio," GP "which has one of the most recognizable guitar riffs in all of rock," GW "are spectacular highlights." GP
"Also included were two 'epics.'" GP "The anthemic Natural Science…clocks in at over nine minutes" GW and "is composed of three distinct movements." WK It sports "a middle section that contains elements of reggae." GP "The lyrics are driven by concepts of natural science." WK
The other epic, "the stormy Jacob's Ladder," GP was "reminiscent of their earlier heavy progressive rock period. Exploring odd time signatures, the song possesses a dark, ominous feel…The title is a reference to the natural phenomenon of the sun breaking through the clouds in visible rays, which in turn is named after the Biblical ladder to heaven on which Jacob saw angels ascending and descending in a vision." WK
"There's also the epic-feeling…Entre Nous, a sort of intellectual love song (if such a thing can be said to exist)" GW and "the introspective Different Strings." GW
"Geddy Lee also began singing in a slightly lower register around this time, which made their music more accessible to fans outside of the heavy prog rock circle. The album proved to be the final breakthrough Rush needed to become an arena headliner throughout the world, beginning a string of albums that would reach inside the Top Five of the U.S. Billboard album charts. Permanent Waves is an undisputed hard rock classic, but Rush would outdo themselves with their next release." GP
As for the album title, Geddy Lee has said it refers to "a theory that was going [within the band] about…culture waves; and there was a night when Neil said that a big album was like a permanent wave and I told him, 'that's our title.'" WK
---
Review Source(s):
---
Related DMDB Link(s):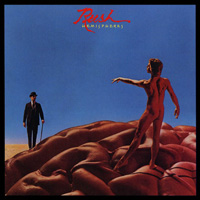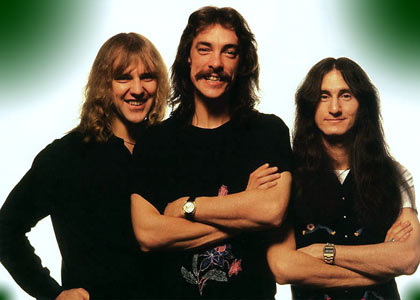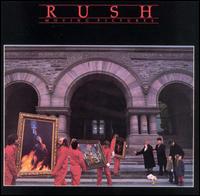 ---
The Spirit of Radio (live video)
---
Free Will (live video)
---

Click on box above to check out the DMDB on Facebook.
---
Last updated July 29, 2011.