Review:
Amy Winehouse's 2006 sophomore album Back to Black made her an international star and, with her tumultuous life, a favorite of British tabloids. The success of that album thrust her largely-overlooked debut, 2003's Frank, back into the spotlight. As PopMatters' Mike Joseph noted, the album reinforces "that Winehouse's success... is based on pure talent rather than good producers or gimmicks." WK
The album title "alludes to the nature and tone of Winehouse's lyrics on the album." WK Indeed, BBC Collective writer Matt Walton called it "an honest, refreshingly personal record" WK and New York Daily News' Jim Farber noted the album for its "brutal honesty." WK
The album was also praised for what The A.V. Club's Nathan Rabin called its "languid, wide-open neo-soul grooves and jazzy vamping." WK The Guardian's Beccy Lindon said the album's sound fell "somewhere between Nina Simone and Erykah Badu... at once innocent and sleazy." WK The New York Times' Nate Chinen called it a "glossy mixture of breezy funk, dub, and jazz-inflected soul" WK while Walton noted its "classic jazz crooning dirtied with her other influences – Ben Folds Five, Stevie Wonder and Miss Dynamite." WK All Music Guide's John Bush said she comes on "like a hybrid of Billie Holiday and Lauryn Hill who's had a tipple and then attempted one more late-night set at a supper club than they should have." JB Her musical style and vocals were also compared to Sade, Macy Gray, Sarah Vaughan, and Dinah Washington. WK However, as BBC Online writer said, "Winehouse has enough attitude, talent and chutzpah to make any comparisons fleeting and pointless." WK
Understandably, the album also received kudos for being what Farber called "a remarkably assured debut" whiched shoed "none of the stumble of an artist's baby steps." WK The Times' Dan Cairns called it "a staggeringly assured, sit-up-and-listen debut, both commercial and eclectic, accessible and uncompromising." WK USA Today's Elysa Gardner said of the album that "Winehouse fuses her influences with such breezy authority that the songs never sound flagrantly derivative or stale." WK
She proved herself "an excellent vocalist possessing both power and subtlety, the latter an increasingly rare commodity among contemporary female vocalists (whether jazz or R&B)." JB "Instead of a series of vocal mellifluities programmed to digital perfection, Winehouse's record has the feeling of being allowed to grow on its own – without being meddled with and fussed over (and losing its soul in the process). Simply hearing Winehouse vamp for a few minutes over some Brazilian guitar lines on You Sent Me Flying is a rare and immense pleasure." JB
"Songs like Fuck Me Pumps, Take the Box, and I Heard Love Is Blind cast a cool, critical gaze over the music scene, over the dating scene, and even over the singer herself. With In My Bed, she even proves she can do a commercial R&B production, and a club version of Moody's Mood for Love not only solidifies her jazz credentials but proves she can survive in the age of Massive Attack." JB
The album received two nominations for Brit Awards and was nominated for the Mercury Prize, a British equivalent of the Grammys. The song Stronger Than Me earned Winehouse an Ivor Novello songwriting award.
---
Review Source(s):
---
Related DMDB Link(s):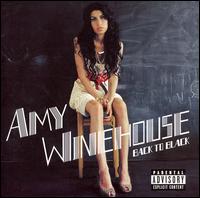 ---
Stronger Than Me (video)
---
Take the Box (video)
---
In My Bed (video)
---
Fuck Me Pumps (video)
---

Click on box above to check out the DMDB on Facebook.
---
Last updated July 24, 2011.