Review:
"Creed burst out of Florida with 1997's My Own Prison, a dark but commercial debut reminiscent of the early-'90s Seattle sound. Creed's moody guitar grunge and ardent lyrics, coupled with singer Scott Stapp's passionate vocals, helped My Own Prison sell millions." KT "Most critics and pop music trainspotters didn't give Creed's 1997 debut My Own Prison much credit upon its release," KT The band was tagged as "one of many heavy post-grunge guitar outfits – especially to the disinterested observers who tend to name genres and classify bands." STE
"Human Clay demonstrates that this likable quartet hasn't messed with success; they turn in a sophomore outing rife with evocative moodiness, soaring guitars, and a dark, roiling, intense vibe." KT "The industry, critics, and record collectors alike were stunned, positively stunned, when it entered the charts at number one, then stayed in the upper reaches of the charts for months on end. Nobody could figure out why this group managed to not just survive, but thrive when such fellow travelers as Our Lady Peace fell by the wayside. After all, at the time, not only were post-grunge bands dying, but so were such grunge heavyweights as Pearl Jam and Soundgarden's Chris Cornell." STE
"Listening to Human Clay doesn't really reveal any insights, either, since it is hard rock rooted firmly in the Seattle vein, complete with really big riffs and intensely introspective lyrics. Then, a realization sets in: Unlike their influences – from Pearl Jam and Alice in Chains to Stone Temple Pilots – Creed is happy to be a rock band. Their music may not be particularly joyous and they may even favor foreboding, heavy riffs, but they're not trying to stretch into political causes or worldbeat like Pearl Jam; they're not reveling in dark psychedelia like Soundgarden; nor are they attempting a glam Abbey Road like Stone Temple Pilots." STE This "a straightforward grunge and hard rock band, embracing everything that goes along with that," STE which includes "memorable hooks, Soundgarden-like guitars, and Vedder-like vocals," KT and Creed ends up "doing it pretty well." STE It makes "Human Clay at once compelling and effectively redundant." KT
"They might not have as strong an identity as their forefathers, but they're not faceless, especially in the late '90s, an era when most popular hard rock is either rap-rock, industrial-tinged, or plain out thuggish (at times, of course, it's all three). Creed has more class than that and they write relatively solid riffs and hooks. It may not be the kind of thing that knocks out critics or grunge purists, but it does deliver for anyone looking for direct, grunge-flavored hard rock." STE
"Within that realm, the band does mix things up a bit – it's not all mid-tempo sludge, for there are also ballads and some high-octane, up-tempo rockers – and that makes Human Clay a stronger, better-paced record than its predecessor, which wasn't bad either." STE "Beautiful is but one of the winners on this strong 11-song CD. Haunting and indeed beautiful, the track is more delicate and seductive than most heard here, as is another lilting and mysterious entry, Never Die, which boasts some Middle Eastern accents. Higher is typical Creed – safe, emotive guitar rock for the masses, but with a slight edge." KT
Human Clay "does make it clear that there is an audience for post-grunge hard rock, as long as it's delivered without pretension and as long as it meets the audience's desire for straight-ahead, hard-hitting music." STE
---
Review Source(s):
---
Related DMDB Link(s):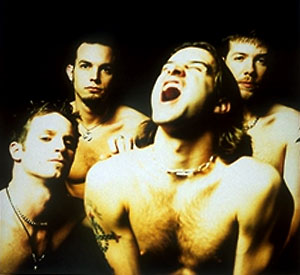 ---
Higher (video)
---
What If (video)
---
With Eyes Wide Open (video)
---
Are You Ready? (live video)
---

Click on box above to check out the DMDB on Facebook.
---
Last updated October 16, 2011.