Review:
"Growing up is hard to do, as any teen pop idol will attest. Still, showbiz kids are nothing if not savvy, so they know it's better to make the jump than to idle as an idol, no matter how hard that jump may be…With his debut solo album, Justified (face it, that title was a given), Justin Timberlake misses his mark slightly; he hits much closer than fellow Mickey Mouse Club alum Christina Aguilera did with her Stripped, but he's uneasy as a suave, mature loverman, particularly because much of his stance is borrowed directly (and rather improbably) from Michael Jackson. JT…shamelessly borrows from Jacko, from the Thriller-era getup and poses to the sharply modernized spin on the classic Off the Wall sound" (Erlewine).

"To be sure, the sound of the Neptunes productions which dominate Justified is the best thing about the album; they have a lush, sexy, stylish feel that is better, more romantic than most modern R&B. Too bad they're delivered by such a cipher. Though he's turned into a technically skilled vocalist, he's still too much of a showbiz kid – all technique and surface, not much substance. His falsetto may be smooth, but it's utterly without character, which unfortunately describes the songs too: pretty on the surface, but devoid of memorable hooks" (Erlewine).

"This means that what truly stands out is when he breaks from form and tries to prove how street and hip he is, delivering awful double-entendres like 'I can think of a couple of positions for you' and 'get real wet if you know what I mean' and exhorting the fellas and ladies to sing separately in a cringe-worthy affectation on Senorita. When he sings that he'll 'have you nekkid by the end of the song,' he doesn't sound like a seductor, he sounds like a kid actor awkwardly assuming a new persona. This isn't without merit – the sound, apart from some flop Timbaland productions (which he redeems with the slinky funk of Right for Me), works well, and if these cuts were songs instead of tracks, his bland falsetto would be fine" (Erlewine).

"This sure isn't the musical immolation of Christina's ugly Stripped. Unlike that album, this suggests a direction Timberlake could follow in the future, given stronger songwriting collaborators. But Justified is just sound and posturing, with no core" (Erlewine).
---
Review Source(s):
---
Related DMDB Links: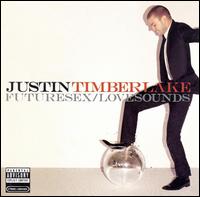 ---
Last updated February 17, 2010.